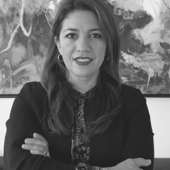 Tatiana Caldas-Löttiger
Senior Legal Counsel Interim
I am an international business lawyer with 12+ years of experience working in the intersection between law, technology, and regulatory affairs within the telecom/IT law/Cloud industry, including Data Privacy & Security. And, with extensive international working experience and a solid understanding of the regulatory environments in the EU, USA, and LATAM from working on technology policy issues with political bodies, policymakers, and academia.

I am also a board member and strategic business advisor for Startups developing and/or using AI-driven solutions, who focuses on the globalization and combination of emerging technologies. 
I joined the FAIRPLACE* team to contribute to our human centric, global minded and ethic work as well as that of our clients. 
For full CV please visit my Linkedin profile.